Chronicle Cloud is a feature-packed application built for teachers with an add-on module for parents. This capability allows our Teachers to share notes and assignments with Parents via few simple steps.
Chronicle Cloud: Parent's app is designed and built to help teachers and parents connect in a distraction-free way. Parents can download this app for free and get connected with their kid's classroom teachers. Whenever teachers share any special class notes or assignments, they are auto-magically pushed to the respective parent's app to review. 
Powerful features in this app allow parents to download and print assignments. It also allows them to upload and submit finished assignments back to the teachers.
This is available for Apple iOS, Android devices, and as a website on popular browsers.
Teacher's app steps
In the Chronicle Cloud: Teacher's app go to the roster and click on view all
Click on the three vertical dots for a student and click on view profile
Click on the link with the Parent app and fill in details of the parent/guardian
An invitation will be delivered to the parents/guardians email and they will get a QR Square with Student Code
Parents' app steps
Parent's can now download the Chronicle Cloud: Parent's app, via the link in their email
Enter their phone details in the app
Once OTP (one-time pin code) is received in the message, that will need to be typed into the app for security purposes
Now go to the Menu and Add Child with the Student Code received in the email
Select the relationship with the child and add
You are now connected. Wait for teachers to share a note or assignment with you
Teacher's app note sharing steps:
Go to a specific note you wish to share in Chronicle Cloud: Teacher's app and toggle slider in a specific note to Share with linked contact
You are now sharing a specific note with the parents. Feel free to share notes or use the assignment tab in notes to add assignments and share with parents.
Get Chronicle Cloud : Parent's App
Available on  iOS, Android devices, and Web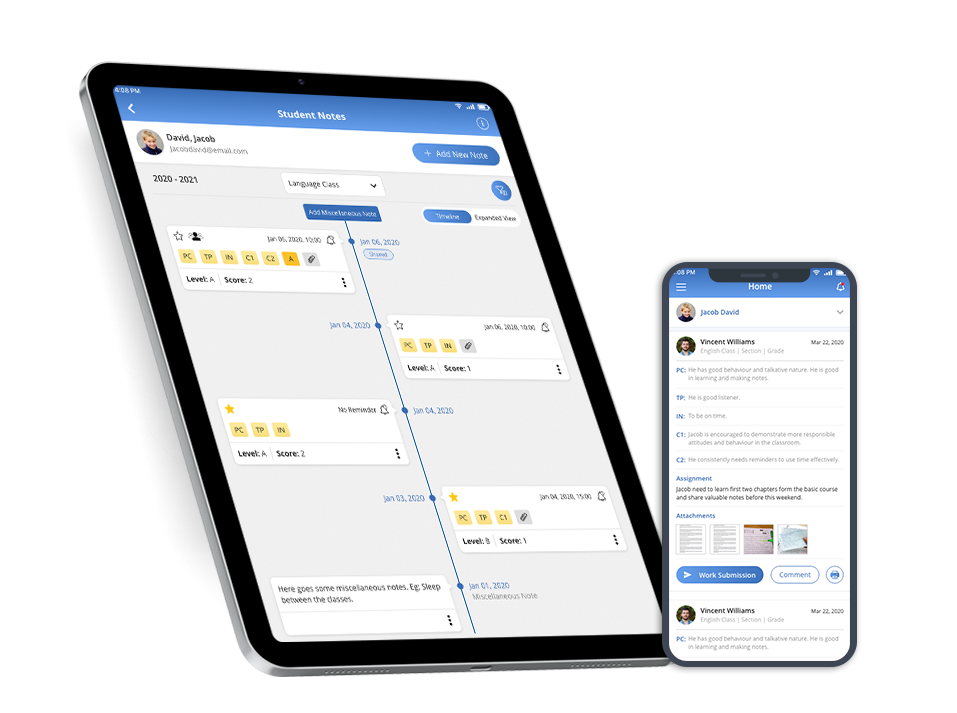 Chronicle Cloud: App for Teachers
Chronicle Cloud: Parent App
Download Parent's app Now
Parents want to keep track of their children's progress at every step of their session in school. With Chronicle Cloud Parent's app, students can receive and submit their assignments via videos, notes, and pictures. This app also allows parents to receive specific feedback about student performance regularly from their classroom teachers.