Gamification In Classroom Management: Using Edtech To Encourage Positive Learning Outcomes – Part 2
This is the second post in a two-part series on Gamification in Classroom Management. You can read the first part here – Gamification in Classroom Management: Using EdTech to Encourage Positive Learning Outcomes
Once confined to recreational spheres, games have infiltrated formal environments such as industry and education, marking a burgeoning trend. Their inherent engaging, addictive, and motivational qualities make them particularly powerful. Utilized as a tool, games can influence behaviour significantly, as demonstrated by Teng and Baker in 2014.
What makes games unique is their ability to present challenges without adversely affecting participants' self-esteem or motivation, fostering a resilient spirit among competitors. In the face of failure, players persistently attempt to overcome obstacles, exploring various problem-solving strategies and stimulating creativity in their approaches. This dynamic encourages acquiring new knowledge and skills and facilitates attitude transformations. Games, therefore, serve as dynamic platforms that promote continuous learning, skill development, and positive mindset shifts. 
Integrating ICT (Information and Communication Technology) into the educational system has revolutionized teaching and learning. One of the notable advancements is the emergence of virtual learning environments, online platforms designed for educational purposes that have also become hubs for social interaction. These platforms supplement various aspects of school life, such as the curriculum, cooperative conflict resolution, and parent training. Many educators have incorporated educational platforms into their teaching methods, especially within gamified lesson plans.
Modern technology employs personalized learning techniques that cater to individual needs and characteristics. These methods adapt instructional elements like task selection and tutorial examples, considering various factors such as individuals' goals, prior experiences, demonstrated knowledge, performance, environmental conditions, and social contexts. As learners progress and demonstrate proficiency, the system adjusts the order and frequency of problems, curriculum progression, and feedback types accordingly. Adaptive learning systems play a crucial role in ensuring mastery of each objective, guiding learners through activities that reinforce and validate each enabling objective. These systems scaffold learners progressively, leading them towards mastery.
Many students often find school dull and ineffective, prompting educators to constantly innovate their teaching methods and create more dynamic, active, and engaging learning environments. It has led to several important questions about education: What makes games and game settings so appealing? What lessons can educators draw from the gaming industry to enhance their teaching strategies? How can they design projects and content that captivate students as effectively as games? Games have a unique ability to draw students in, often without tangible rewards, solely for the pleasure of playing and experiencing an engaging adventure. Consequently, integrating game elements into education has the transformative power to make learning environments significantly more exciting.
Incorporating game elements goes beyond mere motivation; it allows students to advance at their own pace through timely, personalized feedback while developing essential skills such as problem-solving, collaboration, and communication. When implementing gamification in the classroom, it's crucial to recognize that not all students are primarily motivated by the desire to win. Understanding participants' diverse interests and motivations is critical to creating an engaging environment for everyone involved. Therefore, integrating game elements becomes a means to encourage greater participation and progress among all participants in various activities.
Teachers using the Chronicle Cloud app classify groups as Explorers, Achievers, Socializers, and Killers to understand gamers' varied interests and motivations. Additionally, using Quantic Foundry's suggestions, some teachers use the other gamer motivations: action, social interaction, mastery, achievement, immersion, and creativity. Teachers refine these classifications by categorizing Gamification user types and their respective motivations as Socializers (relatedness), Free Spirits (autonomy), Achievers (success and mastery), Philanthropists (purpose and meaning), Players (rewards), and Disruptors (change).
Considering these classifications, the following proposal outlines and describes the six player types identified in gamified activities.
Moreover, as data accumulates from numerous learners, some teachers utilize data-driven methods to identify trends, such as challenging or counterintuitive parts of the instructional sequence. Other teachers analyze learners' behaviors to recommend peer-to-peer and team matchups or to discern instances where a student requires human feedback instead of automated responses. These advancements underscore the dynamic and responsive nature of modern educational technologies.
Teachers must establish a clear objective for implementing a gamification approach, a specific topic, or an entire course. This objective could enhance participation in a struggling group, foster collaboration skills, or encourage timely submission of homework assignments. Defining a precise goal is crucial as it streamlines the course design process and enables a comprehensive assessment of its effectiveness.
When designing gamification, teachers must consider the target player types involved in the activity. They must carefully select game principles and components aligning with the defined objective. Additionally, teachers should identify pedagogical and technological resources supporting their design choices, as elaborated below.
In implementing gamification, teachers play a guiding role in their students' progression as players. This approach can be seamlessly integrated with other teaching and learning strategies, ultimately leading to the development of desired competencies in students. Furthermore, the comprehensive evidence gathered from this progression is valuable for performance assessment.
Gamification has gained traction, adding a gaming element to various online activities like campaigns, e-learning, businesses, commerce, and health. Users can complete tasks, acquire knowledge, or foster specific attitudes or behavioral changes. ClassDojo is a prime example, functioning as an online classroom management tool that enables teachers to monitor students' behavior, customize objectives based on individual student needs, and maintain motivation. Researchers have found that this app enhances behavior, offers flexibility, and fosters motivation while keeping teachers, parents, and students in the loop about the progress.
In an educational context, gamification, inherently playful, aids in the internalization of concepts in a stimulating manner. It captures students' interest, enhances engagement, and encourages a sense of accomplishment, making learning attractive and enjoyable. Gamified activities transform routine tasks into captivating challenges, motivating students to excel. Progress is measured through levels, points, and badges, encouraging healthy competition and collaboration. This external motivation drives students to put in their best effort for their benefit, fostering a deep commitment. Challenges inspire them to succeed and reward them, reinforcing positive behaviours and enhancing their learning experience.
However, designing gamified activities requires careful consideration. Teachers must assess students' abilities and prior knowledge to set appropriate challenges, preventing stress, frustration, or loss of interest. Creating activities that align with students' interests and cater to their diverse needs is crucial, adapting educational experiences accordingly. Understanding students as players helps tailor educational activities to meet their specific requirements. Categorizing players based on their preferences and behavior is fundamental in this adaptation process. 
The Group Notes feature on Chronicle Cloud enables you to create groups according to their competency. Educators use badges like Acers, Achievers, Socializers, etc., according to the distinct traits of students. The data enables them to work with individual and group students and sharpen their indigenous qualities and competencies to transform them into life skills. Let us take an instance below.
Acers are interested in acting on other players to show their superiority and be admired.

Achievers: they find it very important to work on the world, control, and master the game.

Socializers: they like to interact with other players. The game is just a setting to find out about others.

Explorers: they are concerned about interacting with the world. That leads them to get deep knowledge about the game. 
Assessments and Gamification
Academic assessment within a gamified context is intricately tied to providing students with regular feedback guiding their progress. In gamified activities, students naturally exhibit diverse actions while tackling complex tasks like problem-solving, which indicates their developing abilities or skills. The evidence essential for assessing these skills emanates from the interactions and engagements of the players within the activity.
Teachers must conduct assessments in gamified environments that minimally disrupt the game flow, ensuring sustained player engagement. Teachers can achieve this delicate balance through a method known as stealth assessment. By scrutinizing the sequence of actions in the gamified setting, where each response or action offers incremental evidence of the current mastery of a specific concept or skill, stealth assessment can precisely discern what students comprehend or lack understanding of at any given point in the activity.
Integration of assessment within the game experience is paramount; otherwise, students might perceive interruptions, leading to a loss of interest. Thus, if the activity dynamics do not naturally facilitate assessment opportunities within the gameplay, evaluation can be conducted post-gamification, allowing students to demonstrate their acquired knowledge. Furthermore, qualitative resources, such as avenues for peer assessment and feedback, can be seamlessly incorporated into the assessment framework of gamification.
Defining the competencies that students are expected to observe and demonstrate for practical learning assessment is imperative. 
The accompanying chart illustrates that utilizing diverse game principles and elements is a strategic approach to cultivating these competencies, ensuring a comprehensive development framework within gamified educational contexts.
Utilizing the traffic light system within the Formative Assessment feature on Chronicle Cloud has significantly enhanced the monitoring of student progress. Furthermore, teachers have observed a remarkable increase in student concentration and focus, reinforcing the effectiveness of this approach in fostering a conducive learning environment. 
The Rubrics feature within the Chronicle Cloud app empowers teachers to substantially boost student performance by concentrating on specific skills for improvement. Teachers tailor their approach to individual student competencies, refining particular skills. For instance, sports coach Victor Donahue utilized Rubrics to enhance the diving techniques of a state-level swimming participant, showcasing the app's effectiveness in targeted skill development. 
Additionally, in a different instance, he employed Rubrics to coach a relay athlete, demonstrating the versatile application of this tool in refining various skills among athletes. 
The Attendance feature incorporates mood emoticons, allowing teachers to gauge students' moods early in the day. This information aids teachers in adjusting their lesson plans to optimize learning outcomes effectively. 
Incorporating gamification in classroom teaching offers a multitude of benefits:
Enhanced Motivation:

Gamification inherently boosts motivation by stimulating learners' behavior. By setting clear goals, students become more engaged in the learning process. Overcoming challenges gives them a sense of achievement and success, encouraging them to persist and attain new objectives. While gamification includes extrinsic motivators like rewards, the most influential experiences stem from intrinsic motivation, achieved through competition, collaboration, curiosity, and challenging tasks.

Safe Learning Environment:

Gamified learning environments empower participants to take on new challenges without fear of real-life consequences. Games provide a secure space for exploration, critical thinking, and experimentation, fostering meaningful experiences.

Informative Feedback:

Games offer constant and timely feedback, guiding students toward the correct answers. Regular feedback, coupled with understanding their progress and proximity to their goals, motivates learners and signifies their advancement in the learning process.

Promotes Cooperation:

Gamified situations encourage teamwork, instilling vital social skills like collaborative decision-making, role-playing, effective communication, and respect for diverse ideas. Students learn to appreciate and leverage each other's strengths, creating a positive learning atmosphere.

Self-Discovery of Abilities:

Students gain insights into their abilities and skills through gameplay. They recognize areas where they excel effortlessly and identify those that require more effort. Games provide a valuable platform for students to understand their capabilities, enhancing their self-awareness.

Improved Knowledge Retention:

Games leverage emotions, enhancing cognitive processes such as memory and, as studies suggest, contribute to more efficient learning and retention than conventional instructional methods. Games' immersive and engaging nature ensures that students retain knowledge effectively, making the learning experience more impactful.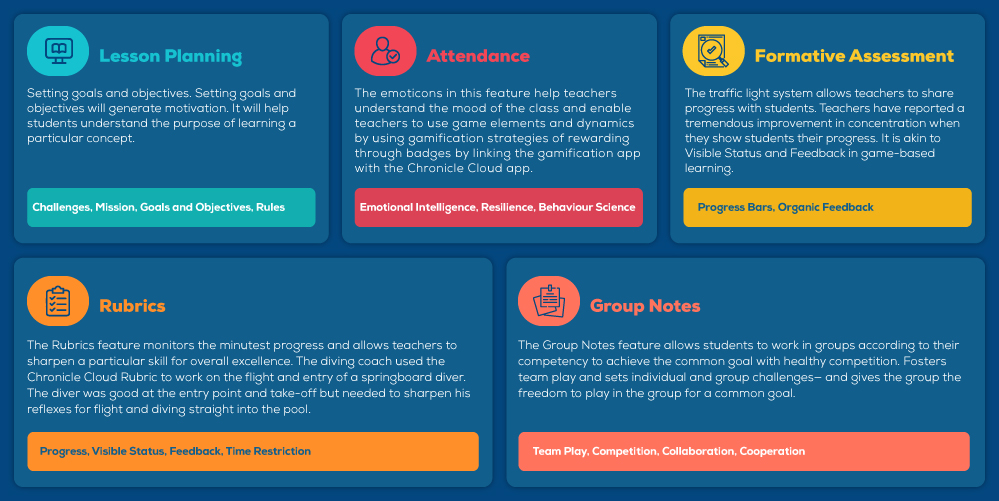 Conclusion
Our academic standards have been transformed into a machine-readable format, enabling precise gap analyses. This capability allows us to draw meaningful inferences, informing teachers' decisions and potentially saving significant financial resources. Information-rich micro-credentials, such as badges, provide tangible evidence of measurable progression and learning processes. By employing advanced technologies like xAPI and NFTs, which document these achievements, we create a comprehensive record of learning that extends beyond institutional boundaries. This approach supports lifelong talent management and facilitates the seamless alignment of educational systems across different periods and communities.
We must ensure our measurement methods are valuable in the present and comprehensible to future communities. In this context, learning becomes akin to a structured sport characterized by high measurability and transparency.