A Must-Have App for Teachers
While some schools in the U.S. are scrambling to bring children back to schools by maintaining physical distance, other schools have decided to run virtual classrooms. A few are following a 100%-online-learning-during-COVID.
Technology was extensively used to meet the emergency requirements of the pandemic. While there were many apps available for note-taking, there was no cloud-based class management system available that was custom-built for teachers that could assist them in remote teaching.
The apps available are merely note-taking apps, and they do not differentiate between teachers, mothers, doctors, or engineers.
"Was it possible that the generic apps- that were in the market for doctors and engineers, teachers and mothers alike- could cater to teacher-specific tasks. Was there not a requirement for a cloud-based class management system up till now? Why didn't anyone feel the need for a cloud-based education service?" A teacher couple was struggling with one such non-specific app, and that is when they began asking themselves these questions. This generic app that they were using helped them in compiling information on the individual child. For recording assessments and grades, they had to again rummage through the internet. They realized there was no cloud-based education or class management system in the market that comprehensively addressed all the requirements of teachers in a classroom or remote setting!
Whatever apps available were merely note-taking apps where they could write notes on children, a few others helped them in assessments and gradings, but none were available on one platform. Soon they realized there were not many features that supported teaching as a profession. There was so much that went into teaching- managing rosters, taking individual student notes on the progress, sharing them with parents, formative assessments, and of course, evaluation. What if they wanted to teach and share multimedia within the app to explain a concept? These generic apps were not making sense. There went so much in teaching such less was captured on the generic apps.
After struggling for a few months aligning the teaching data on multiple apps, battling with student notes, roster, assessments, and evaluation, the teacher couple finally gave up. They were confident now that they wanted a cloud-based management system that was custom-built for teachers. They realized that they also had to keep in mind that the app had to be simple, user-friendly, and versatile with multimedia capabilities. Teachers for life the husband-wife duo set out to explore ways to bring technology to every teacher's doorstep.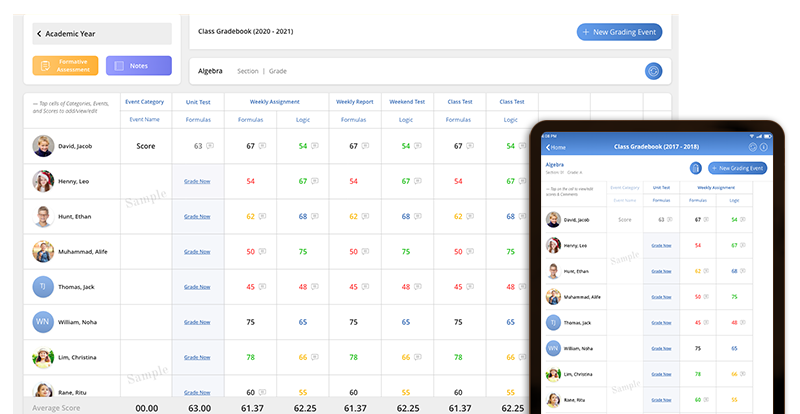 Chronicle Cloud is the cloud-based class management system and a digital grade book designed with the simple thought of using technology and integrating teaching tasks, allowing teachers to focus on their passion for teaching. CC is one of the best cloud-based class management apps that helps teachers in note-taking, giving student feedback, taking formative assessments, and using multimedia for making teaching engaging. During the pandemic, it also helped teachers organize frequent individual meetings and interactions with students and the parents via the "Chronicle Cloud Parents App."
Chronicle Cloud falls in the category of "cloud-based class management system," which is more than just a note-taking app. It is perhaps the only app that incorporates almost all aspects of teaching. CC is available on iOS and Android versions. It is accessible with an iPad and tablet and the web version on a mobile, PC, and laptop. Teachers need to register on the Chronicle Cloud website and use the app to make their teaching effortless and hassle-free.
The custom-built features help teachers increase efficiency by: 
managing rosters for the academic year

write individual student performance in the form of notes and give feedback

referring to the old notes, and gauge students' progress. Teachers can give instant feedback through speed notes. 

With keyword searches, they can store subject-specific notes in text or audio-visual forms to make teaching and learning fun. 

Taking formative assessments and recording data for future reference

, including audio recordings for better student focus and formative assessments,

 setting individual student learning goals, and track the progress of each student separately.

Engaging parents via the parents' app, share notes, reading and comprehension, and home assignments with them.
Powered with an avant-garde cloud-based education service, CC is a versatile app designed to document individual student progress efficiently. 
 The app is also equipped with online assessment tools and online evaluation tools that make assessment and evaluation super comfortable and easy for teachers!
Chronicle Cloud surpasses all traditional note-taking apps by using multimedia technology, allowing teachers to quickly capture students' progress via texts, photos, video, and audio. The teacher can also send assignments to students and parents, receive submissions from students, share student progress with teachers of other subjects. Teachers can take formative assessments, and record them for future reference, and do the grading and aggregate the scores right there on the app.
The "Grading Assessments Help Track" student levels (i.e., reading levels) and scores (i.e., standardized test scores or benchmark scores). Teachers can track formative assessments of learning objectives, learning behaviors, and/or social behaviors using a unique Traffic Light design. 
One of the teachers found the Traffic Lights super useful when she wanted to record the students' observations of a terrarium and an aquarium. She informed the students that she would walk around and give them red, yellow, or green light according to the quality of their notes, using Chronicle. The teacher was surprised by the effect this had on students' focus. The quality of the notes was much better than before.
The teacher can also write or load notes for subject-specific teaching lessons and store them on the cloud. With unlimited storage on the cloud comes the ease of downloading data anywhere, anytime.
The data from the app gets stored on the cloud, and since it is a cloud-enabled class management system, all data is synchronized across all devices. It gives you the ease of accessing your data from different devices, i.e., iPad, Android tablet, and a PC/Laptop. 
Chronicle Cloud is technologically a very advanced cloud-based class management app that has been built around the needs of teachers and parents, with a single-minded focus on making teaching and learning effective, easy, and fun, and to use technology to minimize the time and effort that goes into mundane school tasks. Teachers like CC  because it saves time and energy spent on repetitive tasks and makes them use their time effectively. 
The teacher couple had teachers in mind when they built this app because they wanted technology to assist teachers exactly the way health apps are helping doctors. 
With the speed technology has entered our lives, the classrooms must change too. Technology is an ineradicable part of our present, and it will have a stronger presence in the future, and the sooner all teachers and students adapt to technology, the better.