Every Business Will Become a Software Business
Watts S. Humphrey, the father of quality in software and CMMI
"Every business will become a software business." Satya Nadela repeated in Microsoft's annual CONVERGENCE CONFERENCE in 2015. Nadella believed these activities would fundamentally change the economics of business, using what he called "systems of intelligence".
Since then, Amazon has delivered packages with the help of drones, and SpaceX is on a Mars mission :).
A steady pattern that emerged through history is that machines took care of tasks that seemed repetitive to human beings. Looking at this pattern, we know technology will continue to play a significant role in every sphere of our lives. Some worry that this means a choice between human or robot jobs. But the reality is a bit nuanced. Human presence at workplaces can not be ruled out for a minute even though technology will continue automating tasks. The human-machine combination will thus augment the human-machine partnership at workplaces to achieve optimum productivity and quality. 
We Cannot Escape Technology
We have seen that the world has changed at the speed of light since technology took over our lives. Digitalization has changed how the world will look in 20-30 years. Accompanying digitalization is artificial intelligence taking over sectors such as defense and health care. Blockchain technology, and augmented reality, are soon becoming a part of the technological revolution; and will be the force that will drive us into the future.
No country can ignore the necessity of switching to automation and artificial intelligence. Artificial intelligence and automation have become sources of productivity to secure high-quality economic growth in the U.S and across the globe. Technology is now considered an essential constituent to lift the economy and add impetus to the progress of a nation. 
Technology has reshaped interactions with family and friends. It has also transformed how we operate our businesses and workplaces. The new technologies are game-changers. Without technology, multinational and multilateral cooperation and complex global interdependence could not have been possible. Technology has also encouraged new business models and innovative ways of working. 
Technology has amplified our capacity to perform better and yield high growth in every sector. It has entered every part of our lives, and education is no exception. 
It has fundamentally changed the education system. Laptops, Smartphones, Tablets, and iPads in the classrooms are the new normal. The first thing that comes to my mind is how technology has expanded possibilities in accessing education. Numerous books and content are available online in countless formats, and formal learning opportunities are readily available. Technology is a powerful tool that supports and transforms the education system. Let us see where we will be and the sectors with opportunities in education technology that the internet and technology have created.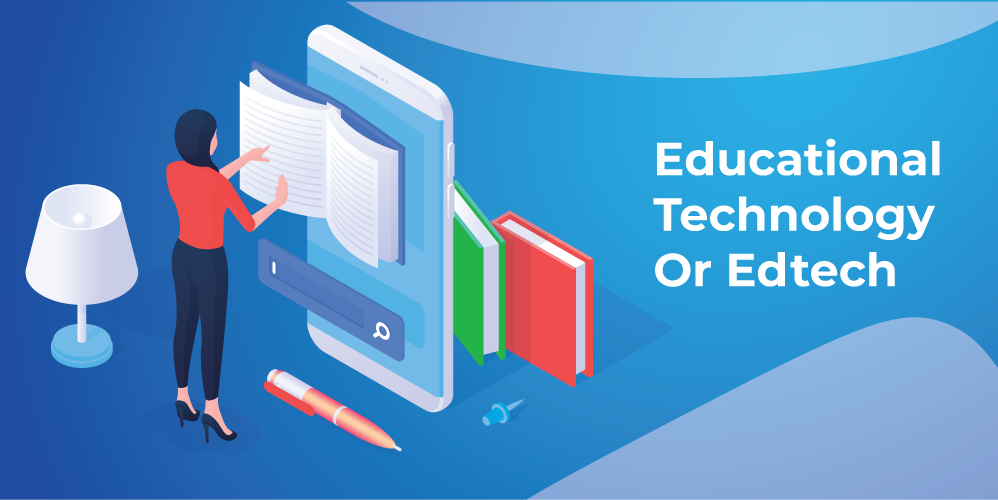 Educational Technology Or Edtech
Education is one of the most fundamental sectors imperative to building other sectors of the economy. Besides educational services, the education sector has a distinct and vast market of consumer products. Technology is becoming a key component in managing this sector where opportunities are infinite. The sub-sectors of EdTech are also fast-growing, new Edtech trends are coming and becoming robust ancillaries and will have a market of their own by 2022. These ancillaries will mobilize more modifications, innovations, and adaptations to EdTech. 
The EdTech companies are focussing on software and a rich repertoire of content. Content is going to be the key player. Hence, companies focus more on creating software than developing computer/electronics hardware. The companies are concentrating on K-12 and postsecondary markets. The ancillaries surging with opportunities are:
Software Development: The EdTech companies are now 'reverse' driving strategic partnerships with hardware and software companies to design products for the education sector. Almost all EdTech companies and startups mainly focus on software that will enhance and support teaching and learning. Digital platforms are being created for teachers to help them with teaching tasks.
Content Visualization and Virtual Reality: Not just written content, but the content is created around virtual and augmented reality using digital visual elements, sounds, and other sensory stimuli to deliver lessons using technology. Using VR and other advanced visualization technologies, students can manipulate and understand 3-D illustrations and fly-through models of biological structures, anatomy, chemical compounds, engineering designs, and other content. Students can take virtual field trips, perform virtual dissections, and build and experiment with structures and components in a safe, nondestructive environment. While still at an initial stage, the EdTech companies are working fast on creating content with these advanced technologies for classrooms.
Content Writing:

Quality educational content is the driving force behind consumer choice. EdTech companies are concentrating on creating compelling content; thus, imparting knowledge and information through content will be a separate area of expertise that the EdTech industry will need. EdTech companies are also developing state-of-the-art digital, audiovisual content with a strong focus on STEM- (science, technology, engineering, and mathematics).

Adaptive Learning Systems:

The ALS uses computer algorithms to manage interactions with the learner and delivers customized lessons to address the learning needs. ALS uses pedagogy, content, and

assessment

to develop learning systems that can adapt to the real-time needs of the student. The evaluation results determine student understanding of the content using the inbuilt assessment tools algorithms.

Assessment:

Because of the vital role assessments play in the learning process, a subsector in software development focuses on developing software that indigenously supports assessment. This subsector includes companies that provide educational assessment solutions (test and evaluation) to K-12 and higher education institutions. These assessment platforms focus on in-depth advanced software developments, research and psychometrics usage.
A thriving EdTech industry ecosystem will require talent, innovation, and access to capital. Extensive and continuous R&D will set the momentum for sub-sectors growth relevant to imparting education. 
We Should Embrace The Change – Technology In Education
EdTech represents an industry high in technological content. Hence, it also requires a specialized workforce. The EdTech industry will need technology-enabled Science, Technology, Engineering, and Mathematics (STEM) experts. It will also need human talent in creative skills like content creation, pedagogy, psychometrics, and performance assessment.  
Education is a vast field, and because educators use technology to facilitate learning, people are developing ingenious ways to integrate technology and education. Some teachers are coming out with apps to make teaching easy.
 Chronicle Cloud is a platform designed by a teacher couple for teachers to assist them in teaching tasks. CC helps teachers with note-taking, formative assessment, grade books and support sharing with teachers, administration, and parents with the Chronicle Cloud parent app.
Utobo, based out of Walnut, California, is a platform for educators and coaching services to take live classes, create courses and test series, and sell them online. 
Schoolhouse in New York is an EdTech startup that provides micro-schooling or at-home education solutions. 
The Iowa EdTech Collaborative is a network of internationally known education companies, stakeholders, and economic development leaders working collectively to grow human-centred K-12 and lifelong learning in Iowa. 
These are to name a few. The EdTech industry is brimming with opportunities and providing solutions and commercial opportunities. With educational technology, we can make immeasurable contributions to lifelong learning and human excellence and bring education to par with other industries flourishing because of technology.